---
USS HUDSON DD475
HISTORY PAGE
---
This information has been accumulated over years from a number of sources
U.S. NAVY DEPARTMENT
Ships Section
Office of Public Information
Navy Department
HISTORY of the USS HUDSON (DD 475)
The destroyer HUDSON was launched at the Boston Navy Yard on 3 June 1942, with Mrs Henry H. Hough, wife of Admiral Henry H. Hough, U.S.N., (Retired), acting as sponsor.
Commander William R. Smedbert III, U.S.N., assumed command after the ship's commissioning on 13 April 1943, and this newest addition to the United States Navy was ready to assume her role in the Pacific theatre of operations.
After a brief shakedown period in the Atlantic, HUDSON was ordered to Efate, New Guinea, where she reported to Commander-in- Chief, U.S. Pacific Fleet, for duty. She was just in time to take part in the initial landings on Bougainville Island in the Solomons. Here she provided shore fire support as well as an anti-aircraft umbrella for those on the beach. Two Jap marauders were accounted for by her guns and she was given credit for an assist in the destruction of a third in a heavy air assault on 8 November. She was out on anti shipping sweeps in the Truk area in succeeding months and then engaged in the landings on the green Islands and Emirau.
After a welcome breather in Sydney, Australia, the tough little destroyer steamed north to join the great armada being assembled for the Marianas campaign in the summer of 1944. Assigned to a transport group screen, HUDSON participated in the landing on Saipan and Tinian; dashed down to Guam for a bombardment there; joined Task Force 58 for the first Battle of the Phillipines Sea where she shot down two enemy planes; escorted a covering force off Saipan where she shot down another plane; covered the underwater demolition teams at Guam and brought her guns to bear on key targets along the coast of that island in the softening up period prior to invasion. During this period, HUDSON effected the rescue of 3 Navy Fliers who had had their planes shot out from under them and one Nip pilot found floundering in the sea.
The Navy's drive westward across the Pacific was in full swing in 1944 and HUDSON moved swiftly south from the Marianas Group to join the THIRD FLEET's operations at Palau in September. The initial assignment was bombardment, preparatory to the landing on Angaur. To the subsequent invasion, HUDSON delivered call fire on both Angaur and Pelelieu. On 28 September the ship proceeded to Manus in the Admiralties for logistics and thence to San Francisco California, for overhaul. Round one was over and HUDSON had just begun to fight
The overhaul was completed on 7 December 1944 and HUDSON proceeded to Pearl Harbor for refresher training and further assignment. In February of 1945 HUDSON sailed in company with a transport group, every ship of which was jammed with Marines and all the material necessary for a successful major operation. The destination was the island of Iwo, where one of the bloodiest battles of the war was subsequently fought. The Japs realized only too well that their innermost defenses had been breached and were not willing to let the matter go uncontested. DD475 blasted Jap gun emplacements and thick concrete pillboxes; served on patrol around the transports off the quaking beach; operated as radar picket ship; on several occasions assumed visual fighter director control of the Combat Air Patrol. A total of 1,453 rounds of ammunition were expended by her five-inch guns within the shadow of Mount Surabachi.
This ship departed the area on 6 March 1945, returning to Saipan in company with a task unit. Two days later, she located and brought safely from the water six members of a B-29 crew forced down in perilous waters off that island. On 10 March, HUDSON retired to Ulithi for logistics. Round two was over and HUDSON was fighting.
Okinawa was the next test for ship and crew and she met well. HUDSON joined a task unit at Leyte and left for big show on 27 March 1945. The curtain went up on April Fool's Day but this was no seasonal prank. This was an all-out effort to crush the Nipponese right on their own doorstep, the final stone in achain of stepping stones which has begun with Guadalcanal.
HUDSON assumed duties as a radar picket ship and on 5 April while on her station, she made contact with an enemy submarine. Destroyer tracked submarine for six hours, at no time losing contact for more than a few minutes. A total of six depth charge attacks were made which resulted in the destruction of the submarine, for which HUDSON was given full credit.
A Kamikaze plane slightly damaged HUDSON on 22 April. Unsuccessful in its attempt to hit the bridge, largely because of the heavy volume of machine-gun fire which riddled it. The plane crossed the forecastle, carried away the jackstaff, and splashed close aboard to port. As a radar picket ship, HUDSON was very successful in utilizing its Combat Air Patrol, destroying 33 aircraft and accounting for three more with her guns.
On 4 May she came alongside USS SANGAMON (CVE 26), to help her fight a raging fire caused by an enemy aircraft which had crashed into her. The assignment proved to be anything but comfortable. The overhanging flight deck of the heavily rolling CVE gouged into the super-structure of HUDSON, tore away the port wing of the bridge, knocked a big searchlight off its mounting, and smashed 40mm gun mount. Desperately clearing their flight deck, crewmen of the escort carrier jettisoned a flaming airplane, only to have it land neatly on the fantail of HUDSON, starting fires there. A flaming flag bag from the carrier also was pitched on the weather deck of the destroyer. The fire was eventually brought under control but HUDSON had suffered more as a result of the fire than had the original victim. She then proceeded to Guam for repairs. Round three was over and HUDSON had fought
For the splendid record she made in the Okinawa area, USS HUDSON has since been awarded the Navy Unit Commondation.

The text of the citation reads in part as follows:
FOR OUTSTANDING HEROISM
"For outstanding heroism in action as a fighter direction ship on radar picket station during the Okinawa Campaign, from 1 April to 10 May 1945. A gallant fighting ship, the HUDSON, her officers and her men withstood the stress and perils of vital radar picket duty to prevent the Japanese from striking in force the Naval forces off the Okinawa beachhead; achieving a distinctive combat record which attest the teamwork, courage and skill of her entire company and enhances the finest traditions of the United States Naval Services."
22 June found her back in the fight at Okinawa where she remained until 1 July. During the next month she served as convoy escort in the vicinity of Eniwetok and neighboring bases until ordered to join a task unit operating in and around the Aleutian Islands. With the proclamation of V-J Day, HUDSON proceeded to Ominato in the northern Honshu and Hokkaido area to provide cover for the occupation and control of Northern Japan.
The ship was subsequently placed out of commission in reserve at San Diego, California.
STATISTICS
STANDARD DISPLACEMENT: 2.050 tons
ARMAMENT: Five 5-in .38 caliber dual purpose guns,
LENGTH OVERALL: 375 ft. 0 in. ten 21-in. torpedo tubes and smaller AA guns.
BEAM: 39 ft. 4in.
SPEED: 35 knots
COMPLEMENT: 300 men plus

Restencilled 11/22/48

---
On Feb. 5,1999 the above was published in the Melrose Mirror, an online pulication produced by a group of Senior Citizens. (All over 65. Oldest in his 90's). We call ourselves "SILVER STRINGERS".
I am a member and editor of the production.. The url is listed in my favorite links.

---
HUDSON decommissioned and went into reserve 31 May 1946. In January 1947 Hudson was moved to Mare Island, Calif.,
---
The following informmation provided by Dan Darvishian. His father, Harry Darvishian served aboard the Hudson.


* The Navy sold USS Hudson , DD-475, to Zidell Dismantling/The Zidell Companies, 3121 Moody Ave., Portland, Oregon, 97201. (503) 228-8691.
*Contract number: 16-4023-004.
* Tonnage: 2,120
* Bid price: $161,387.87
* Date awarded: 11-27-73
* Arrived Tacoma, WA, 12-13-73, where she was dismantled.
* Scrapping commenced: 12-14-73
* Demilitarized: 02-20-74
* Scrapping completed: 03-07-74
* Returned government items: 04-11-74

---

D-DAY FOR BOUGAINVILLE LANDING.
NOVEMBER 1, 1943.
The first troops put ashore on Bougainville were 13,000 Marines and a convoy of 12 transports screened by 11 destroyers under command of Commander Ralph Earl, ComDesRon-45. Ships were, USS Fullam, Guest, Bennett, Hudson, Anthony, Wadsworth, Terry, Braine, Sigourney, Conway and Renshaw.

A few Jap aircraft attacked D-Day morning, but were intercepted by our fighters. The only ship casualty was a near miss to the Wadsworth and kill two of the crew. DDay afternoon about 100 Jap Carrier planes who were intercepted by fighters. No ship or landing craft was hit by the attacking planes.

JANUARY 31, 1944: Task Group 31.8 consist of destroyer transports Talbot, Waters and Dickerson escorted by destroyers Fullam, the Flag ship, Bennett, Guest and Hudson went to Green Island. Under cover of darkness, reconnoiter teams went ashore. One team was ambushed. Four men killed by snipers then total silence. The Japanese Navy was preparing an ambush - one unit was creeping in for a strike. This striker was frustrated by the Guest and Hudson.

No Enemy Activity was reported by Task Group 31.8 on January 31, 1944. Such reports were subject to change without notice. At 0411 February 1, the Fullam picked up a radar contact revealing the presence of a vessel in the waters off Green Island, range 10,500 yards.

The Guest, commanded by LCdr E. K. McLaren and Hudson, commanded by LCdr R. R. Pratt were ordered to investigate. The ships held their fire as American PT boats were known to be operating in the area. A flash sweep with the searchlight revealed nothing. At 3,500 yards radar detected a target. A diving submarine. Both ships dropped depth charges. The deep sea explosion indicated another sub had been sunk. Japanese records verified the kill as I-171.

Throughout March several destroyer divisions operated in the Bougainville area, bringing to a close the Solomons theater. The Hudson was one of the ships.

April 1, 1945: OKINAWA INVASION.
A total of 1,450 vessels manned by well over half a million men took part in this operation. Off Okinawa were 2,213 ships carrying 182,000 assault troops. A total of 318 Combatant vessels. The largest fleet yet assembled in naval history. Over 40 carriers, 18 battleships, scores of cruisers, submarines, minesweepers, landing craft, patrol vessels, salvage vessels and auxiliaries. More than 148 destroyers and destroyer-escorts were in the armada that fought the Okinawa campaign.

The story of this campaign is the story of the American DD's and DE's that bore the brunt of the sea-air battle. Carrier groups were far offshore, bombardment groups came and went. Submarines met little or no opposition. Destroyers were there! The destroyers forces were in there for days and weeks.

The DD's and DE's worked as radar pickets or patrol vessels in the screen. Covering the approaches to Okinawa, they mounted guard at radar picket stations in a ring around the island, or patrolled the convoy approaches as Anti-Submarine or anti-aircraft guards. Their duties were to give early warning of approaching enemy ships of aircraft.

April 5, 1945: On radar picket station west of Okinawa word was received of a surface contact. Hudson raced to the area and picked the target up on radar. Sonar made contact and six depth charge runs were made. A muffled explosion was heard and by daybreak the sea was smeared with an extensive oil slick and other items of debris. The Japanese submarine RO-41 was no more.

Sometimes Capís (Combat Air Patrols) were assigned to the picket ships. By this, having control over the plane. The ship directed the fighter planes to any target. When not on picket duty the ships provided shore bomb bardment support.

May 28 the Kamikaze offensive on the pickets did its damage. The planes had been hitting them heavy during the preceding four weeks. A total of ten destroyers had been damaged and one lost. On April 22 the Hudson received minor damage from a near miss. On May 4 she received major damaged during the attack. She was further damaged when she went alongside the burning escort-carrier SANGAMON to provide assistance in fighting the fire.

The USS HUDSON DD-475 received the Navy Unit Commendation for action between April 1 and May 10, 1945.

The first Commanding officer of the USS Hudson was Commander William R. Smedberg III, April 13, 1943. Upon his transfer LtCommander Robert R. Pratt relieved him.


***********************************************************

The above information compiled by Bob Ross, RMCS USN-RET

If you find incorrect information or have additional information or pictures of the crew email to me.
---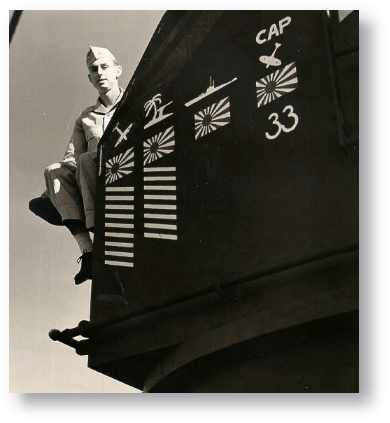 USS HUDSON DD475 Battle Record
Lt Hawthorne

Explanation of above photograph:

1.JAP Aircraft we shot down:---- 9
2.Shore Bombardments:----------- 8
3.JAP Submarines sunk:---------- 1
4.CAP (Combat Air Patrol:------ 33

(CAP's are aircraft the Ship directed to engage enemy aircraft).

---
CASUALTIES
Killed In Action June 19, 1944
Skoskie, Stanley J. ------ FN
Stockey, Byron E. ------ MM
Injured June 19, 1944
Fath, Robert B. ----- GM
Good, Oscar ---------- ?
Prehonda, Michael --- SN
Richardson, John ---- SN

Accidedntal Death March 9, 1945
DeWitt, Huber S ---- Torpedoman

Injured April 22, 1945
Dinwiddie, Hugh H -- Chief Water Tender



---
LINKS TO OTHER PAGES