---
CONTRIBUTORS
---
Robert O. Goerlich
Water Tender First Class
---
Charlotte Goerlich, widow of R. O. Goerlich, and editor of the ANTHONY News Letter, sent me a stack of articles, photos and information on her husband who served aboard the Anthony. I am told there is more, so created this page to hold his material.

Goerlich reported aboard the Anthony February 26, 1943 as a Fireman Second Class. He left the Anthony April 4, 1946 as Water Tender First Class.

I have not put the material on the pages in any order yet. Entering as I complete each item. Will eventually put in chronological order.

---
C O M M E N D A T I O N
---
Sea Service Record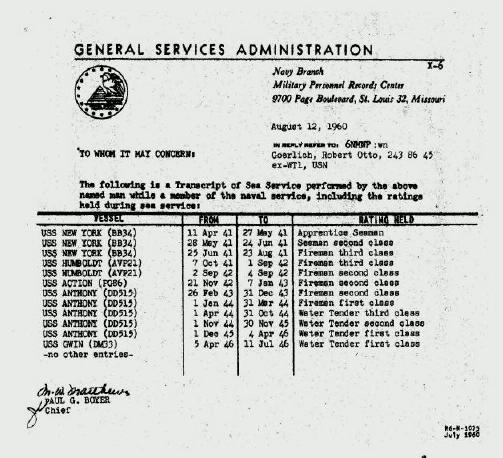 ---
Naval Training Course Certificate
---
**************************************************************************
The following article from: The San Diego Union, Friday Dec 7, 1945)

Tin Cans' Steal Harbor Glory
By: Vincent Dunne
Their decks atilt with Pacific veterans crowding to the dockside rails, nine warships today steamed into San Diego harbor, with the six smallest of them grabbing the largest share of attention.
The six were the half dozen rugged "tin cans" of the original nine units of Destroyer Squadron 24. They came in formation, even as they had fought through three years of combat in the North and South Pacific.
First to tie up was the flagship Anthony, followed by the Wadsworth, Van Valkenburgh, Daly, Beale and Ammens. Never to return were the Abner Read, Bush and Bronson, sunk in action while the squadron was compiling its unequaled battle record, which included three months of picket duty against Jap kamikaze planes over Okinawa.
Sets Picket Record
Destroyers of Squadron 24 shot down 75 Nip suicide planes and were responsible for the destruction of 200 more. The Wadsworth holds the fleet record of standing 36 consecutive days of Okinawa picket duty.
The six destroyers and the escort carrier Breton, destroyer escort Wesson, and battle cruiser Guam, returned a total of 2113 navy, marines and coast guard personnel in almost simultaneous arrivals today.
With a fine disregard for rank, first "passenger" off the Anthony was Snowshoe, a dog picked up by the crew in Pearl Harbor and taken as mascot through all the ships campaigns.
Next came the squadron's commander, or commanding officer, Captain Edward Watson Young, 44, who formerly served here as commanding officer of the West Coast Sound School. He was embraced on the gangplank by his wife, Mrs. Mary Young, of 344 Pomona ave., San Diego.
Pins on Navy Cross
In one of the first local ceremonies of its kind, Capt. Young then went aboard the destroy Van Valkenburgh and, before the assembled ship' company, pinned the Navy Cross one of his Division Commanders.
Decorated was Capt. Clarence Bowley of Provincetown, Mass. for heroic command of the destroyer Pritehard in action last April at Okinaswa.
Capt. William P. Burford, who commanded a destroyer: squadron off Japan, returned aboard the Daly, and was greeted on the pier by his wife, Mrs. Doris Halford Burford, of 220 Jane Ave. Coronado. Their son Frank, 14 was also there.
Met Here by Wife,
Leland D Holton, FC2c, 2l, a crewman on the Wadsworth was met by his wife, Mrs Steve Holton, of Los Angeles.
Ens. J. P. Lombard of 2604 Collier St, was met as he stepped from the Wadsworth by his father, Raymond Lombard, and 10 year-old sister, Simone.
The squadron, formed in Adak three years ago, will berth here overnight before proceeding to the east coast. Most of the squadron's men and officers are eligible for discharge and all more than rate leaves at home, their skipper said.
Eleven ships are due in port tomorrow with a total of 1436 veterans aboard, the 11th Naval district announced. They are LSM 134, 63 navy; U.S.S. Dobbin destroyer tender, 370 navy and coast guard, 9 destroyers, Rowe, 197 navy; Smalley, 174 navy; Stoddard, 106 navy; Watts 56 navy; Wren, 128 navy; John Hood 96 navy; Bearss, 58 navy; Jarvis, 181 navy and Black, 9 marines.

---
**************************************************************************

Anthony is ship in middle.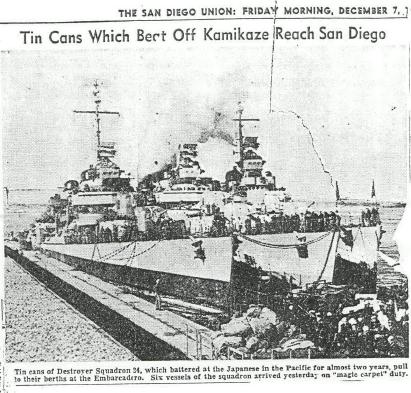 Six Destroyers Arrive With 2113 Veterans

Six plucky destroyers of Destroyer Squadron 24, all of which were hit by suicide planes in Iwo Jima and Okinawa operations, put into San Diego yesterday morning, thelr decks crammed with returning servicemen. Yesterday's total of returning veterans came to 2113.
Today, 1430 Pacific veterans will return aboard the destroyer tender Dobbln, destroyers Rowe, Smalley, Stoddard, Watts, Wren, John Hood, Bearss, Jarvis and Black, and LSM 134.
"Anyone would be proud ot what these ships have done," Capt. E. W. Young, U.S.N., of 344 Pomona Ave., Coronado, Commander of the destroyer squadron, said.
DESTROYERS PRAISED
He was talking about the destroyers Beale, Anthony, Wadsworth, Daly, Ammes and Van Valkenburgh, ships that shot down more kamikaze planes on the Okinawa picket line than any other fleet unit. These ships, which returned from Sasebo, Japan, by way of Pearl Harbor, aided by other vessels, shot down 75 suiciders and helped drop 200 others.
At Iwo Jima and Okinawa, three of the squadron's ships were sunk and two badly damaged. The Wadsworth has been recommended for the Presidential Unit Citation for her continuous duty of 36 days on the line, and the Anthony, Van Valkenburgh, Ammes, Beal and the Bush, the latter sunk at Okinawa, have been recommended for Navy Unit Citations.
TO SAIL FOR EAST
The ships will sail for the east coast to be placed on the inactive list soon.
In an unprecedented "coming home" ceremony, the Navy Cross was presented Capt. Clarence Bowley, U.S.N., of Provincetown, Mass.. Commander of Division 48 in the famed Destroyer Squadron 24. Before all the ship's company on the Van Valkenburgh, the squadron commander read the citation and pinned on the second highest naval award.
Other ships arriving were the destroyer escort Wesson, escort carrier, Breton and the LSM 436.
Mrs. Mary Young, wife of the squadron commander, greeted her husband at the pier. Mrs. William P. Burford was on hand to meet her husband, Capt. Burford, U.S.N., with their son, Frank. Formerly Commander of Destroyer Squadron 5, Burford has completed 19 months overseas duty this tour. They reside at 220 J Ave., Coronado.
At the sound of music from the U. S. Naval Training Center band and the sight of prancing drum majorettes, one of the bluejackets off the Anthony remarked: "This is swell. I'm glad they didn't let us down."

---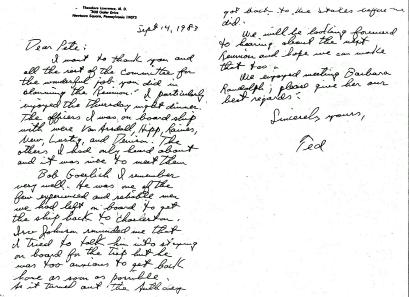 ****************************************************************************

Copy of the hand written note.

This note from Theodore Lawrence Sept 14, 1983


Dear Pete:
I want to thank you and all the rest of the committee for the wonderful job you did in planning the Reunion. I particularly enjoyed the Thursday night dinner. The offiicers I was board ship with were VanArsdall, Hipp, Raines, new, Lustig, and Denison. The others I had only heard about and it was nice to meet them.

Bob Goerlich I remember very well. He as one of the few experienced and reliable men we had left on board to get the ship back to Charleston. Irv Johnson reminded me that I tried to talk him into staying on board for the trip but he was too anxious to get back home as soon as possible. So it turned out the Anthony got back to the stated before he did.

We will be looking forward to hearing about the next Reunion and hope we can make that tool

We enjoyed meeting Barbara Randolph; please give her our best regards.

Sincerely yours,
Ted


----------------------------------------------------------------------------
Note: Please excuse the quality of the photos. This is the best I could do to improver what I received.

---
Return to Contributor Page
Return to Anthony Home Page
---