*********** F-I-N-A-L +++++ E D I T I O N ***********

M-A-Y-B-E
---
USS ANTHONY NEWSLETTER
Issue #39 - May 2, 2002

It's been quite awhile since the last newsletter, and I have more news than I thought.
Things have been rather hectic here, what with several of my fiends and relatives being rather seriously ill. My birthday was Feb.17th, and my son and daughter­in-law planned a surprise party for me on the 16th. We had 24 inches of snow that day. About 11 A. M on the 16th my doorbell rang. I couldn't guess who would be out in all of that snow. It was my daughter and granddaughter from Chicago. They stayed with me that night Their flight on Monday was cancelled as the Phila. airport was closed, and they went home on Tuesday. I had a good time. Now my party is scheduled for May.
Opie Hill celebrated his 100th birthday. on January 12th: "Way to go, Opie!!
There are some new addresses
Bob Babylon has moved to 617 N. W. Jacob Drive #313, Lee's Summit, MO 64081. Phone no.: 816-554-6494.
Charles Cloud's address: Capt Charles L. Cloud (Ret),U.S. Security Assoc., P. O. Box 263, Albany, IN 47320.
Bill Wenger has a new e-mail address; navyman515@attglobaLnet,
Wallace Salisbury also has a new e-mail address: walsal1@juno.com
Ken Carlson would like to hear from you. His e-mail address is: kingdogcharlie@cs.com.
Dave McComb would like to receive a portrait-type picture of the Anttiony. Also, he would like to have the exact wording of the Anthony's Navy Unit Commendation. Contact him .at: mccomb@domeisland.com. Also, he would like pennission to incorporate the Anthony infonnation which is on the web into his web pages at http://www.domeisland.com.destroyers/index.html. The purpose of this is to preserve the information before it is lost altogether.
Bob Nelson had hip replacement surgery in February and is doing well.
Dottie Dixon wrote that she had a rough year last year. She had surgery three times and spent some time in a nursing home.
Charles Rasmussen passed away suddenly on November 23. Marge's new address is: 315 Ovington Avenue, Apt. 1H, Brookland, NY 11209 - phone no. 718-438-6138.
Richard Ulmer, who was FC2/C, died in June 2001. His son, Troy, would like to know if anyone would have any stories relating to his dad. If so, please send them to: Troy M Ulmer, Beachsoft Data Solutions, 1485 Orr Rd, Sycamore, OH " 44882 - phone no. 419-563-6298.
Bill McGonagle's sister wrote to tell me that he died on Dec. 24, 2002. Bill resided in the Maine Veteran's Home in Scarborough, Maine.
Jean Van. Arsdall wrote that Capt. Van had passed away on October 1, 2000. She sent me a copy of his obituary, which I will copy and include with this letter.
Jack Angus' son, James, e-mailed Bob Ross, hoping to obtain some infonnation about his dad from Bob. If anyone knew Jack and could give James any information, please e-maiLhim at cdp2002@yahoo.com.. Give.him your phone number, and he will call you.:
As stated in the last newsletter, the response to the question of another reunion was so poor that there won't be another one. One son did contact me about hosting it, but it wasn't very practical.
Also, this will probably be the last ­newsletter. Whatever money remains will be sent to Bob Nelson, who will attend to having a plaque mounted in a museum.
It's been fun - 19 years of reunions and 12 years of newsletters. I have a lot of fond memories ftom those years.
I wish you all well.
Charlotte Goerlich
215-887-2153
cmgoerlich@aol.com

---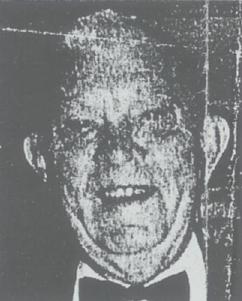 OBITUARY Clyde J. Van Arsdall, Jr.
Orbituary
Wednesday October 4, 2000

Clyde J. Van Arsdall Jr.

Funeral: 11 a.m. Thursday at St. Mark's Episcopal Church in Gulfport.

GULFPORT - Clyde J. Van Arsdall Jr., RADM, USN Retired, 37, died Sunday, October 1, 2000, at his home in Gulfport. Admiral Van Arsdall as a two star admiral after 19 years of active service. He was appointed to he Naval Academy from Indianola by former Mississippi Senator Pat Harrison and graduated in 1934.

As a junior officer he served on two cruisers and three destroyers, then during WWII in the Solomons Campaign as a Lieutenant Commander, he took command of the destroyer Anthony and joined duty on the famed "picket line" at Okinawa. Anthony survived Japanese Karnikaze attacks and Anthony was awarded the Navy Unit Commendation medal and Van Arsdall, tlie commanding officer, was awarded both he Navy Cross and the Silver Star.

At sea Van Arsdall served extensively on destroyers, Commanding destroyers Anthony and Perry during and immediately :following WWII, a squadron of anti-submarine escorts, a squadron of destroyers, Destroyer Flotilla One and ultimately the Cruiser Destroyer Force Atlantic Fleet. Ashore, he was involved in the developed of young officers at the NROTC units of both he University of Oklahoma and Duke University, and later instructed senior officers at the Naval War College. Other assignments included Naval War College. Other assignments included Naval Attache in Paris, France, Director of the Joint War Games Agency in Washington, D.C., Commander of the South Atlantic Force and Commander Western Sea Frontier/Commander 12th Naval District, San Francisco, CA

After his retirement in 1973, RADM Van Arsdall was recalled to active duty in 1974 to assure the smooth transition and move of the U.S. Naval Home from its historic site in Philadelphia to its new facility located in Gulfport, Mississippi. As Governor of both the Naval Home in Philadelphia and the new Naval Home in Gulfport, he spearheaded every phase of the complicated move to the new facility and the disestablishment of the Philadelphia facility. He retired for the second time in 1977 and established permanent residence in Gulfport.

An avid golfer and civic leader, he was a moving force in formation of the Southwest Mississippi Council of the Navy League, a board member for the local Salvation Army, a member of the Gulfport Yacht Club, and an active member of St. Mark's Episcopal Church. .

RADM Van Arsdall was preceded in death by his first wife, Polly Ann of Richmond, Virginia.

He is survived by his wife, Jean Carter Van Arsdall of Gulfport; three children, Anne Van Arsdall of Albuquerque, New Mexico, Clyde J. Van Arsdall, III of 'Amarillo. Texas. And Robert Van Arsdall of Chapel Hill, North Carolina; five grandchildren; and two great-grandchildren. Funeral services will be held at 11 a.m. Thursday, October 5, at St. Mark's Episcopal Church in Gulfport, with visitation from 9:30 a.m. until service time. Interment will be at 10 a.m. Friday, Oct. 6, in his birthplace in Indianola, Mississippi, with military honor. Riemann Funeral Home, 25th Avenue, Gulfport, is in charge of arrangements.

The family prefers memorials to SI. Mark's Episcopal Church, 123 Church Ave., Gulfport, MS 39507.
---
Return to ANTHONY Newsletter INDEX Page
Return to ANTHONY Home Page