USS ANTHONY DD515
REUNION INFO/PHOTO
April 27-30, 2000
BATON ROUGH, LA.
---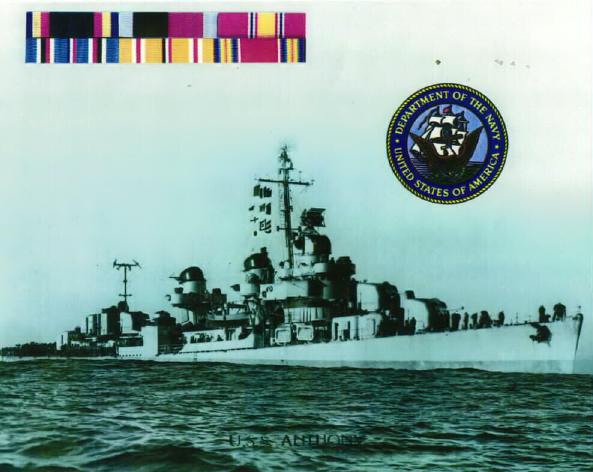 USS ANTHONY DD515
Bill Wenger provided the photos.
---
Other than the photo and names provided by Charlotte Goerlich, I have no additional information as to what took place.
See the Newsletter #29 dated May 29, 2000 for details of happenings.--(Linked to this page.)

If anyone has pictures or information, please email to me.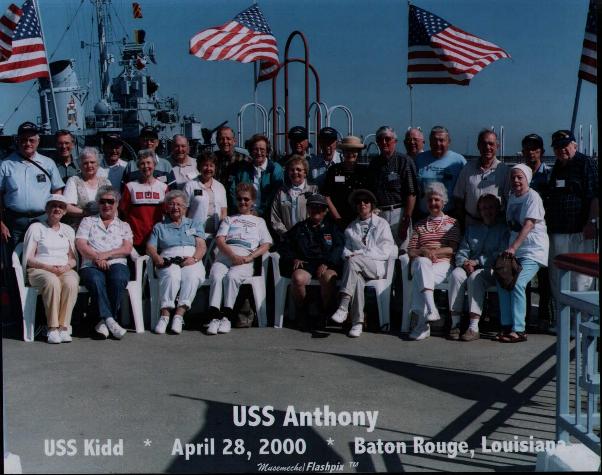 ---
Subject: Reunion Picture
Date: Sat, 3 Jun 2000 09:33:19 EDT
From: Cmgoerlich@aol.com
To: bobrsr@erols.com

Bob,

Here are the names for the picture. Looking at the picture, beginning with the last row (men), on YOUR left:-
Bob Nelson, Harold Learned, Cliff Seale, Bob Kraft, Lou Brown, George Taivalkoski,
Bill Entenmann, Courtland Marshall, Gary DeVries, Bob Kaufman, Barney Vilk,
Bill Landry, Bob Alessi, Will Krupa.

Second row (standing women):-
Claire Nelson, Anne Seale, Jeanne Krupa, Leona DeVries.

First row, seated):-
Martha McNichol, Phyllis Brown, Helen Kraft, Dolores Vilk, Ruth Binsky, Ruth Marshall, Charlotte Goerlich, Sally Johnson, Marie Landry.

*******************************************************

Bob Babylon and his sister didn't arrive until the next day. For some reason, Bill Wenger and his brother-in-law, Harry Williams, didn't know about picture-taking time. I don't know whether or not Dave and Avril Daily were there that day or arrived later, but they are not in the picture.

I hope that I haven't mixed up Barney Vilk and Lou Brown. They look very much alike. We didn't take individual pictures this year, and there was no group picture at all last year. I looked at the pictures from two years ago and hope that I identified them correctly. I'm rather sure that I did. It's surprising how much people in this age group change in two years.

Charlotte Goerlich

---
Newsletter-/-Reunion Index
Return to Anthony Home Page
---