Frigate USS HUDSON circa 1826 - 1898
From Tom Reilly WT2
---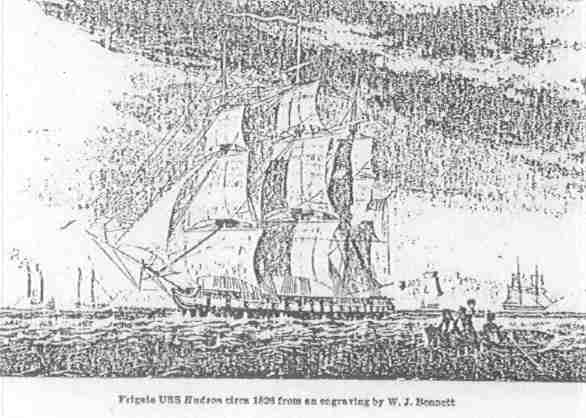 The Frigate USS HUDSON 1898
The second Hudson was loaned to the Navy for use in the Spanish-American War by the Treasury. The revenue cutter was acquircd at New York 24. March 1898 and comissioned there, Lt. F. H. Newcombe in commnnd.
Departing New York 24 April, Hudson sailed to Key West via Wilmington and Jacksonville. There, after brief patrol duty, she was pressed into use as a dispatch carrier and sent to the Fleet off Cuba.
On the morning of 12 May the gunboat Winslow was diabled by heavy fire from Spanish shore batteries and five of her crew were killed. Hudson, under heavy fire from shore, towed the other ship to safety and took on board the dead and wounded of her crew.
Finally delivering her dispatches to Havana 14 May, Hudson remained there on blockade duty for a while before returning to Key West. Another period of patrol ended 10 July as she returned to the blockading fleet with further dispatches. Hudson captured two small fishing sloops attempting to run the blocade off Havana. Reaching Norfolk via Key West and Charleston 21 August 1898.
Hudson Was subsequentJy returned to the Treasury Department.

---
The USS HUDSON DD475 1942
(DD-475: dp. 2,050;- l. 376.6' ;- b.39.8';- dr.17'9";- s.37k.;- cpl. 273;- a. 5 5";- 10 40mm.;- 7 20mm.;- cl. Fletcher)

Hudson (DD-475) was launched 8 June 1942 by the Boston Navy Yard; sponsored by Mrs. Henry H. Hough, wife of Adm. Henry H. Hough (Ret); and commIssioned ; 13 April 1943, Comdr. Richard R. Pratt In command.

After shakedown and escort duty along the Atlantic Coast, Hudson sailed for Efate, New Hebrides, where she was just in time to provide fire support for the initial landings on Bougainville 1 November. As the Japanese staged a heavy air attack 8 November, Hudson helped repel them by splashing two "bogies" and assisting on a third. She then made antishipping sweeps in the Truk area and participated in operations against the Green Islands 1 February 1944. Enroute to the invasion Hudson attacked and sank a Japanese submarine 31 January.

Following a brief respite in Australia, Hudson steamed to Kwajalein to join the armada readylng for the invasion of the Mariannas. After delivering shore bombardment to clear the way for landings on Saipan, Guam, and Tinian, the tough little destroyer took part In the Battle of the Phillippine Sea 19 June. Here she contributed two kills to the massive destruction of Japanese planes later known as "The Marianas Turkey Shoot". In mid-July, as the invasion of Guam was launched, Hudson steamed off the Island to screen transports and chalk up another "bogie" as well as rescuing three Navy pilots and a Japanese flier. From the Marianas, Hudson, steamed to Palau to support landings on Pelellu and Augaur 12-25 September. Departed Manus, Admiralty Island, 4 Octoober, she.reached San Francisco 2 weeks later for overhaul.

After refresher training at Pearl Harbor, Hudson returned to battle, arriving off Iwo Jima 19 February 1945. Here she provided vital radar picket protection during the initial invasion of that enemy bastion. While retiring from Iwo Jima after the island was secured, Hudson rescued eight survivors of a B-29 Superfortress which had crashed at sea 8 March. Her next action came as she assumed duties as a radar picket ship off Okinawa 1 April, when American troops stormed the last enemy stronghold before the Home Islands. On 5 April the vallant Hudson gained credit for sinking her second Japanese submarine of the war as a 6-hour attack with six barrages of depth charges resulted in the death of RO-49 off Okinawa. Although under allmost constant attack by kamikazes, Hudson was to come through the war with only one injury to a crewman; that was inflected when a kamakaze crashed close aboard 22 April 1945, clipping a chief on the head with a wingtip but missing the ship.

It was off Okinawa that Hudson earned the title of the."destroyer" who saved a carrier." On 4 May a kamikaze crashed in the escort carrier Sangamon. Hudson steered for the fiercely blazing carrier, Despite the exploding amunation on board the drifting carrier, the superbly managed destroyer was able to go along sid three times getting a total of 10 hoses over the side. The overhanging flight deck of the carrier caused exteme damage to Hudson superstructure as burning debris and a flaming plane jettisoned by Sangamon's crew which crashed Into Hudson's debth charges on the fantail -- caused scattered damage. When the fires were finally under control, Hudson had suffered damage equal to that of the origilnal victim, althhoug the carrier had been saved with small loss of life through the destroyer's efforts, and was routed to Guam for repairs 10 May.

Promptly repaired, Hudson joined the 3d F1eet off Okinawa 22 June and then proceeded to Eniwetok for convoy duty in the Marshalls. After escorting a convoy to the Aleutians, she returned to Northern Japan to take part in the occupation and control of the enemy home Island 8 September, 6 days after signing of unconditional surrender in Tokyo Bay From Japan, Hudson sailed to Alaska where she began carrying veterans back to the States in Operation "Magic-Carpet." She then put in at the Puget Sound Navy Yard, Bremerton. Wash.,to prepare to decommission, Sailing to San Diego 15 March 1946, Hudson was decommissioned and went into reserve there 31 May. In January 1947 Hudson was moved to Mare Island, Calif, where she remains.

Hudson received nine battle stars for World War II service.

---
Return to Tom Reilly Photo Page
Return to Contributors page
Return to Hudson Home Page