---
BOB ROSS PERSONAL PAGE
---
A Bit About Me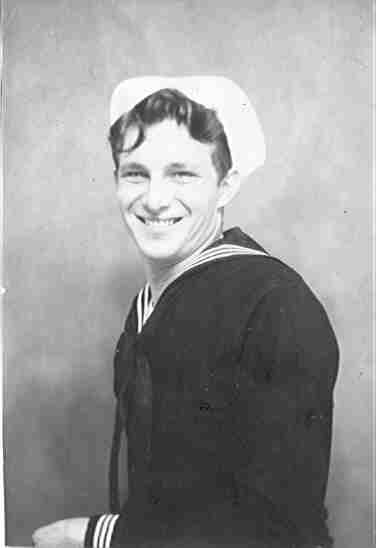 Bob Ross-RM1 - 1944
Click photo for larger view.
I was born at Atlanta Ga, Sept 7, 1923. Joined the U.S. Navy August 1941. Boot camp at Norfolk VA, Radioman School at Charlestown SC. Was there when WW-II started.
My first ship was a transport, USS Edward Rutledge (AP52). Read about it
She was sunk at Fadiella North Africa, a small city near Casablanca after unloading troops in 1942. Two other ships were sunk at the same time we got hit.
In 1943 I joined the USS Hudson (DD475) still being outfitted at the Charlestown Navy Yard, Boston MA. Met my future wife, Lillian while there. We were married in Malden MA on January 13, 1946 after the war ended. Most of my sea duty was on destroyers.
I participated in the Atomic Bomb test, stationed on Kwajaline Islands.
Shore duty includes:

*Norfolk VA where I was on the staff of Commander Fifth Naval District.
*Was Officer-in-Charge of a Naval Reserve Electronics Facility in Paducah KY for two years.
*Keflavic Iceland nearly three years. My wife and two children were with me.
*Three years on the staff of Commander US Naval Forces Europe, the family was with me. We really enjoyed this duty, traveled all over Europe. Something we could not afford to do from the states.
*My last shore duty was at the Fargo Building, Boston, MA. at the
Communications Center. I was there two years.
My last Sea duty assignment was on the Staff of Commander Destroyer Squadron Twelve (The Acey Ducy Squadron), homeported at Newport RI. There were seven ships in the squadron.
I decided it was time to retire when we got orders for a Goodwill Cruise to South America.
Was tranferred to The Fargo Building, Boston MA for retirement. I retired from U.S. Navy July 1971 as a Senior Chief Radioman after thirty years.
Bought my house here in Melrose in 1968. My wife comes from Malden, and naturally she did not want to live in Georgia.
We have two children and three grand-children. One living in Medford, MA., the other in Boxford, MA. It is nice being so close and able to enjoy our grandchildren.
In mid 1998 I joined the Silver Stringers, a group of Senior Citizens
who publish a monthly on-line publication called the "MELROSE MIRROR".
Click here to pay a visit
The group meets weekly on Wednesday at 1:30pm at the Milano Senior Center.
This project was set up in 1997 by the MIT MEDIA LAB and provides the program, server, equipment and technical support. The program is now in use in several countries worldwide.
With help from the members, I learned to write articles and became an editor. This involves spell-checking, formating, inserting html tags, images and links. Since spelling is not one of my best subjects, I leave the spell-checking to the other editors. Everything else I learned to do on my own. Quite a challenge but fun.
Without saying anything to the family I began building files for my own Web Site. Finished I told them about it. This did not go over very good. The wife did not want anything said about her nor her photo. The kids felt the same way. I gave up the idea, but still have it on floppies and look at it from time to time.
---
Our 50th Wedding Anniversary
January 13, 1996