IMPORTANT NOTICE TO EVERYONE
EFFECTIVE NOVEMBER 1, 2006
NO UPDATED WILL BE ADDED TO THE SITE.
---
In March 2006 I had two operations
1. A Cornea transplant for left eyebecause of an infection.
..... I am blind in left eye, and vision in Right eye has been
effected due to damage to Optic Nerve and I will eventually go
blind in Right eye also.
2. A Lung Cancer operation.
..... Operation succerssful and no problems.
On my Feb. 25, 2008 Doctors visit, there was no recurrance
and I only have to go once-a-year for check-up now.
Because of these two operations, and only two ships
have sent information this year, I am discontinuing
updating the Website for Destroyer Squadron 45 Ships.
The Web-site will remain availlable to those interested.
Thanks to all of you who have provided information and
photos of Crewmembers and your ships.
Bob Ross
Email:-- BOBRSR@COMCAST.NET
Phone-- 1-781-662-7237
60 Oakland Street, Melrose MA 02176
---

HISTORICAL CONTENT FROM THIS SITE WILL BE INCORPORATED ON THE DESTROYER HISTORY FOUNDATION'S DESRON 45 SITE AT
THE DESTROYER HISTORY FOUNDATION'S DESRON 45 SITE
http://www.destroyerhistory.org/desron45/index.html">

Thanks to Dave McComb for adding this to his project.
---
---
Welcome to Bob Ross Home Page
Destroyer Squadron 45 Ships
and
USS Edward Rutledge P52.
My First Ship that was sunk in 1942.
---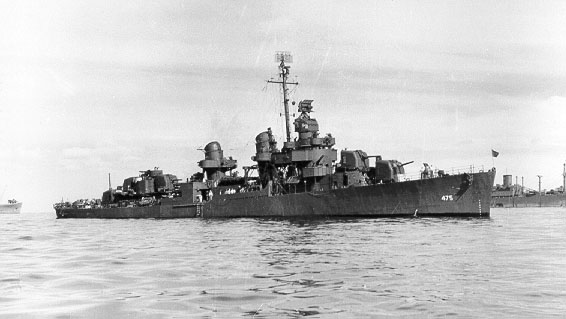 USS HUDSON DD475
My ship

Click on ship to open Bob's Personal Page
---
This web site is dedicated to the World War II Crewmembers and families of Destroyer Squadron 45 Ships.
Built by Robert E. (Bob) Ross, RMCS, U.S. Navy (RET.)
Email:-- BOBRSR@COMCAST.NET
Phone-- 1-781-662-7237

Material used on this site is from official U.S. Navy sources, crewmembers, relatives and friends and is considered Public Domain, unless noted as Copyrighted.

Thanks to everyone who contributed information and photos.

THE SHIPS:
USS ANTHONY DD515 - USS BENNETT DD473 - USS BRAINE DD630 - USS FULLAM DD474 - USS GUEST DD472 - USS HALFORD DD480 - USS HUDSON DD475 (my ship) - USS TERRY DD513 - USS WADSWORTH DD516 and USS THATCHER DD514 from Destroyer Squadron 23.
And my First Ship USS EDWARD RUTLEDGE P52, Sunk by U-Boat N.Africa 1942.
---
DESTROYER SQUADRON 45 SHIPS
---
Below are links to all DesRon45 ships & Edward Rutledge.
Just click on the ships name you want to view.

---
Destroyer Division 89 and 90

---
DesRon 45 REUNION INFORMATION

LATEST INFORMATION PROVIDED
Click on ship name to see if Reunion is Scheduled for your ship
---