USS EDWARD RUTLEDGE AP52 STATISTICS
The USS Edward Rutledge was a converted passenger/cargo ship - SS EXETER that worked the Mediterranean circuit from New York.
---
Click image for larger view

The SS EXETER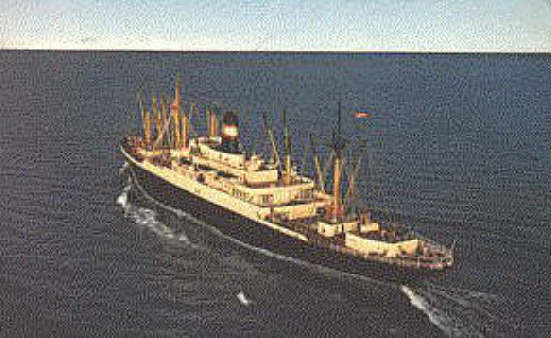 Edward Rutledge Class Transport: Built in 1931 as Exeter at New York Shipbuilding Corp., Camden, NJ; Acquired by the Navy from the Maritime Commission, 7 January 1942; Converted to a Naval Transport at Tampa Shipbuilding Co., Tampa, FL.; Commissioned USS Edward Rutledge (AP-52), 18 April 1942; Final Disposition, sunk by enemy torpedo attack, 12 November 1942, at Fedhala Roads, Morocco; Struck from the Naval Register, (date unknown). Edward Rutledge received one battle star for World War II service.
---
STANDARD DISPLACEMENT: 14,330 tons.
ARMAMENT: one single 5"/38 dual purpose gun mount, four single 3"/50 gun mounts, 8 single 20mm gun mounts
LENGTH OVERALL: 475 ft
BEAM: 62 ft.
DRAFT: 26 ft.
SPEED: 16 kts
PROPULSION: Steam turbine
COMPLEMENT: Unknown